6-BEDROOM Rate: $975/night Regular Rate (minimum 4-night stay)
4-BEDROOM Rate:  $750/night Regular Rate (minimum 4-night stay)
Thanksgiving and Christmas Holiday Rates:  $1,175/night (minimum 7-night stay during holiday season)
All rates are in US Dollars.
Maximum number of people allowed for Main House/6-bedroom is 16, which includes up to two children in portable cribs and 2 children on inflatable XL twin beds.
Bungalow (additional cost*):  Sleeps 8 – 10 additional people, 2-queen beds, 6-XL twin bunk beds, 2-baths/2 showers, 3-basin sinks, closets, sitting room, internet.  A few steps away from the main house.  Ideal for older kids, families, or adults.  Rental price is based on number of people.
*PLEASE NOTE: Rental rates listed above do not include the Bungalow. Please contact us to inquire as to Bungalow pricing. The Bungalow is never rented separately and can only be rented as an addition to the 6-Bedroom rental above.
Additional information about rental rates:
Cleaning Fee: $200
Pet Fee: $150 (with prior approval of owner)
Note: Rental rates include all local taxes and daily housekeeping.
50% of rental fee due at time of reservation, balance due 60 days before rental.
Cancellation policies are outlined in the Rental Agreement.
Rates are subject to change until reservation is confirmed.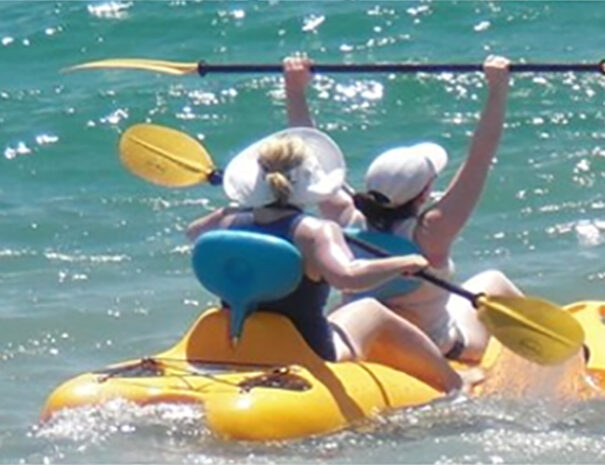 Please email us or give us a phone call at 360.901.2800 to inquire about available dates.
We appreciate your interest in Casa de Las Palmas, a gorgeous vacation beach house rental located in Los Barriles! Here you'll forget about the "real world" and stay active riding quads, kiteboarding, deep sea fishing, riding horses on the beach, swimming or scuba diving in the beautiful sea just steps from your front door! Or simply relax on the grounds – swim in our beautiful pool, lounge on the pool deck or spend a few lazy hours in one of our hammocks. There are so many ways to enjoy your stay at Casa de Las Palmas in beautiful Baja!
We sell out fast so please inquire about your dates as soon as you can. We will do our best to make arrangements that suit your needs.
Casa de Las Palmas has more than 70 '5-star' reviews. We're proud of that and we look forward to having YOU as a guest at the Casa.
You might also like:
Baja Weddings and Events
If you're planning a wedding or other event, Baja Weddings and Events can help! Navigating all you need for a wedding or large event in another country is never easy. Baja Weddings can assist with finding the perfect venue, wedding planning, transportation coordination, accommodations and more!
Casually Elegant Rentals
Whether you need tables, chairs, dishware, silverware or glassware for your occasion, Casually Elegant Rentals is ready and able to provide what you're looking for.